DGX, Dollar General's newest urban store concept is coming to a 4,800 SF space at 20th and Main in the new City Club Apartments development in the Crossroads. The store will include  grab-and-go foods, home cleaning supplies, home décor, electronics, pet supplies, paper products, coffee and fresh fruit and vegetables all at everyday low prices that Dollar General is known for. The opening of DGX is planned for early 2020, along with two new restaurant tenants which are to be announced soon.
First to the KC Market, DGX is in cities including Nashville, Raleigh, Philadelphia, Cleveland, Tulsa, Oklahoma City, Omaha and Columbus. DGX is hoping to open 20 new stores in 2020. Its goal is to provide an attractive exterior and impressive interior to downtown customers, all while providing the intersection of value and convenience for its customers.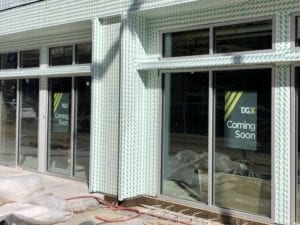 The City Club Apartments will be home to 283 apartments and penthouses and 10,920 SF of retail and restaurant space. The complex is located within easy access to the CBD amongst Kansas City's most popular destinations, restaurants, nightlife, etc. City Club Apartments also benefits from being on the streetcar line, across from The Rieger. The apartments will include a rooftop pool, entertainment club room and incredible walkability.
To read the announcement in CityScene KC, click here.