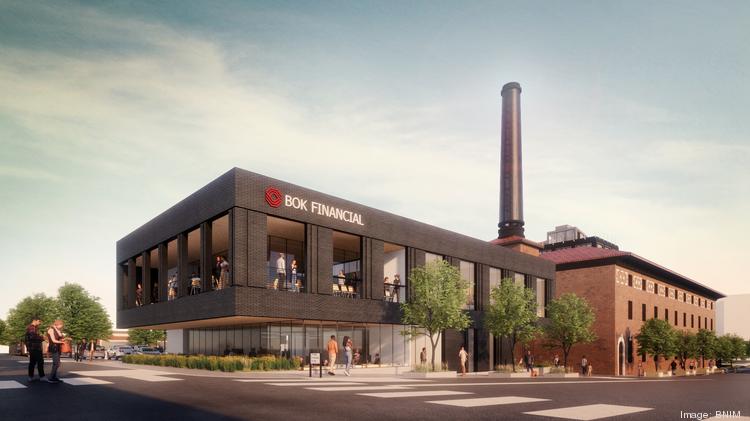 Grand Place, the $98 million redevelopment of the Kansas City Star building, has signed its first pad site occupant.  BOK Financial plans a two-story, full-service banking center at the southeast corner of 17th Street & Grand Blvd.  The new location will best allow the bank to reach more customers, while bringing the life back to the once undeveloped corner and investing into the city with their long-term commitment.
The first floor of BOK's new space will include a full-service branch with a drive-thru off 17th street, as well as office space for BOK's Corporate Trust division. The second floor will include a 75-person presentation room; a pre-function space; and a patio with skyline views. Construction is slated to break ground in summer, with an opening date around second quarter 2023.
The overall plans for the Grand Place development include: a rooftop patio with bar and skyline views; a clubroom with breakfast and lunch service for tenants, guests, and private events; a boiler room converted to an upscale barbershop, spa, and locker rooms; a European style market and food hall with 15 kiosk kitchens, a bar, lounge and cafe; and finally, a private plaza drive for guest arrival and pick-up items from the the future market. Along with the main building amenities, the redevelopment will also include a future restaurant, office building and BOK Financial.
AREA's Tim Schaffer and Sean Craven represented Grand Place in this transaction.
To read the full article in the Kansas City Business Journal, click here.