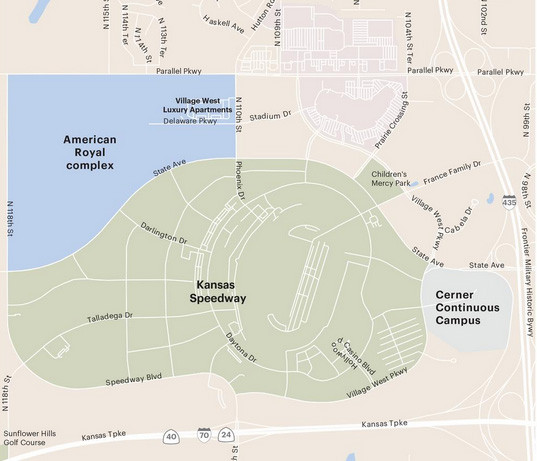 As of late October, the American Royal will leave its West Bottom home of 117 years and move to a $160 million complex to be developed in Wyandotte County.  The site is immediately northwest of the Kansas Speedway.  While still in negotiations, the site could consist of up to 274 mostly undeveloped acres, bounded by 110th street on the east, 118th street on the west, Parallel Parkway on the north and State Avenue on the south. With the move into a wider open space, the Royal will have more flexibility and plans to grow all its agricultural and educational events partnered with Kansas and Wyandotte County.
This thriving corridor is developing quickly as a regional entertainment and tourist destination.  The corridor is comprised of the Kansas Speedway, Children's Mercy Sporting Park, The Legends Outlets, Nebraska Furniture Mart, Hollywood Casino, the T-Bones Stadium, Great Wolf Lodge, Cerner (600,000 SF campus), Dairy Farmers of America Headquarters (Kansas City's largest private employer with 100,000 SF) and the new Waterside Retail development, leased by Tiffany Ruzicka and Matt Vaupell, of AREA.  Other developments growing this area include the future US Soccer Training Center and the 60 acre Legends Auto Mall at I-435 & Parallel Parkway, which will include a hotel and ancillary retail.
We look forward to continuing to watch this evolving Wyandotte County corridor grow.  To learn more details of the American Royal's expansion, you can read the KC Business Journal's article here.