Blu Hwy is set to take you on a culinary adventure from its new South Plaza Restaurant! The indoor/outdoor concept will open this summer in the former Black Dirt space at 51st Street & Main.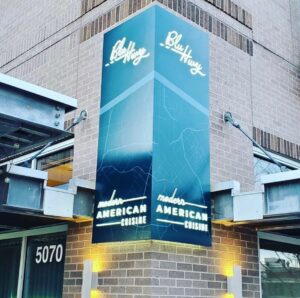 Local restaurateur, James Taylor's inspiration for the restaurant is the 1982 book Blue Highways: A Journey into America. The experience at Blu Hwy will represent the American road trip (along the back roads) and the food along the way, also pulling inspiration from his own travels.
The menu will include familiar food, similar to that found on a road trip adventure, pulling flavors and influences from across the country. It will be a seasonal, ever-changing menu representative of American cuisine as it exists today, from coast to coast. Chef Dan Swinney, culinary director for Taylor's restaurant group, and executive chef Daniel Walker, are creating dishes from all over the map, there is something for everyone to enjoy!
The restaurant will include an open floorplan, indoor/outdoor bar area, and a large outdoor seating area with a streetside window where people can grab food and hangout.  Between the food and drinks, it is without a doubt that guests will be able to choose and enjoy their own adventure!
Click here to read more about Blu Hwy in FEAST Magazine.