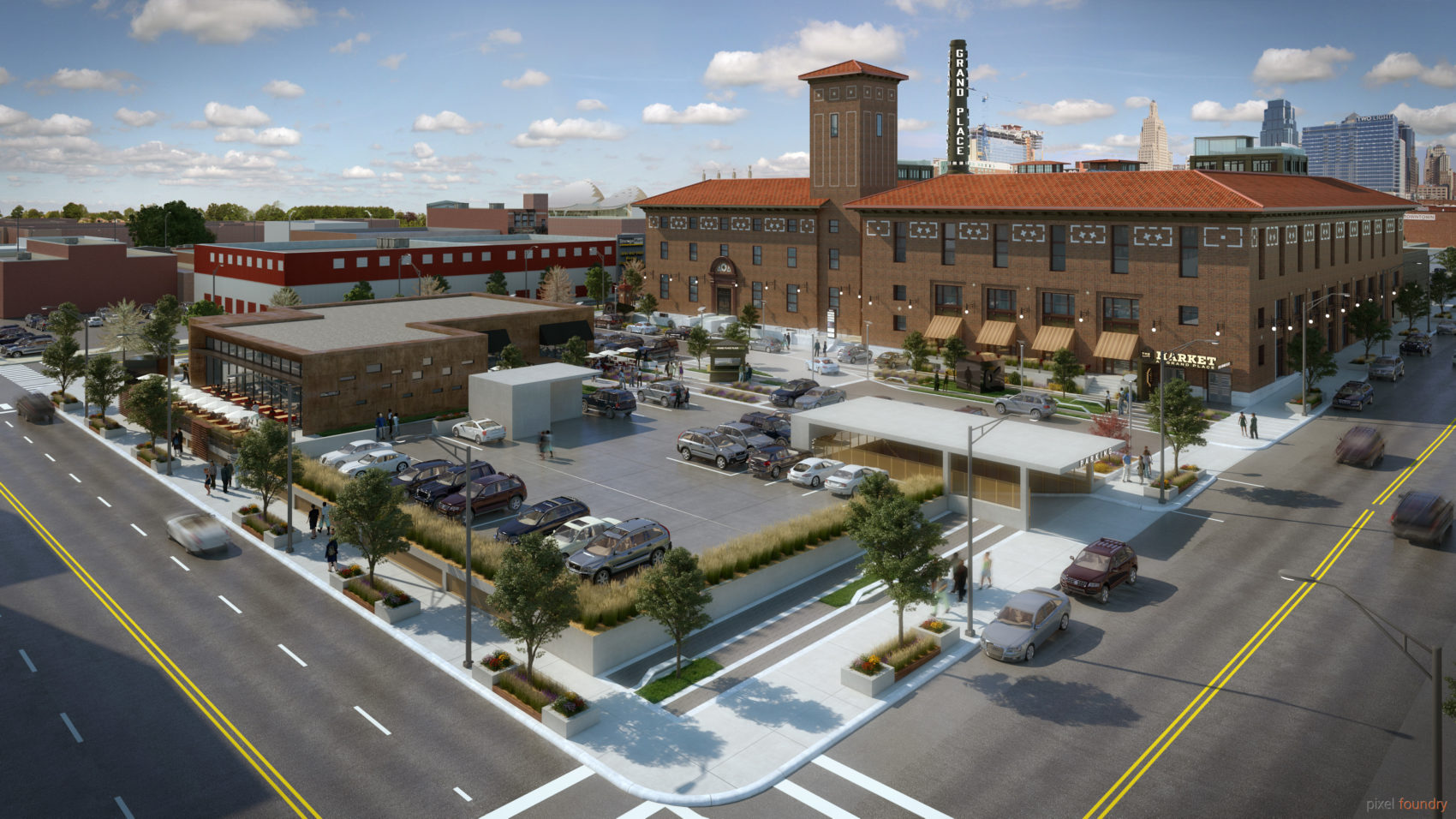 Grand Place, the $98 million redevelopment of the Kansas City Star building, is working towards being the next best thing in the Crossroads Art District, establishing a benchmark for leaders in innovation, business, design and community.
To make Grand Place unique for the Crossroads Art District, they will be putting aside 12,000 SF of free space for incubator artists to use for two years, creating a festival for the space, and incorporating commission pieces throughout the building. The commission pieces will include four nine foot chrome letters S, T, A and R that'll be placed throughout the plaza, artwork commemorating the newspaper industry in the lobby, and a sculpture utilizing about 1,000 old valves removed during interior demolition. "The project is infused with art and the relationship with the Crossroads Arts Community as well as preserving the history of the building and the KC Star," said developer Vince Bryant of 3D Development.
"We hope we can take this very large building and make it part of this annual festival and draw people in, very similar to the ArtPrize festival."
Grand Place redevelopment is located between 17th & 18th Street on Grand Blvd. The redevelopment will include: a rooftop patio with bar and skyline views; a clubroom with breakfast and lunch service for tenants, guests and private events; a boiler room converted to an upscale barbershop, spa and locker rooms; a European style market and food hall with 15 kiosk kitchens, a bar, lounge and cafe; and finally a private plaza drive for guest arrival and pick-up items from the Market Place. Along with all of the main building amenities, the redevelopment will also include a future restaurant, office building and bank/retail site with an approved drive-thru.
Click here for the marketing package
To join the excitement, please contact AREA's brokers:
Office:
Tim Schaffer – 816.876.2535
Sean Craven – 816.777.2838
Retail:
Tiffany Ruzicka – 816.876.2513
To view the City Scene KC's take on the future and finances of the Grand Place, click here.
To listen to AREA's podcast with Vince Bryant, click here.